Create a restaurant software
Easy To Use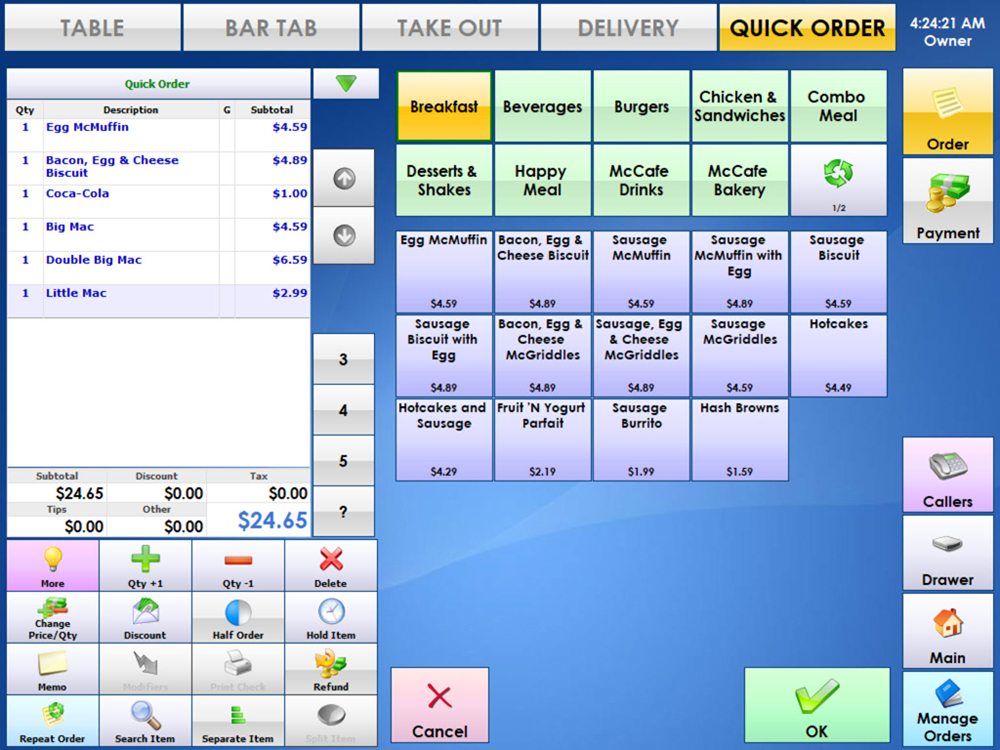 Designed for people with no POS system experiences.
100% touch screen based, intuitive graphical user interface.
Easy to learn and use. Takes less than 30 minutes to learn.
Intuitive design prevents user mistakes.
Easy to setup menu and modifiers.
Informative, color coded table status indicators.
Easily add, edit, merge, split, or transfer orders.
Rock Solid Reliability & Support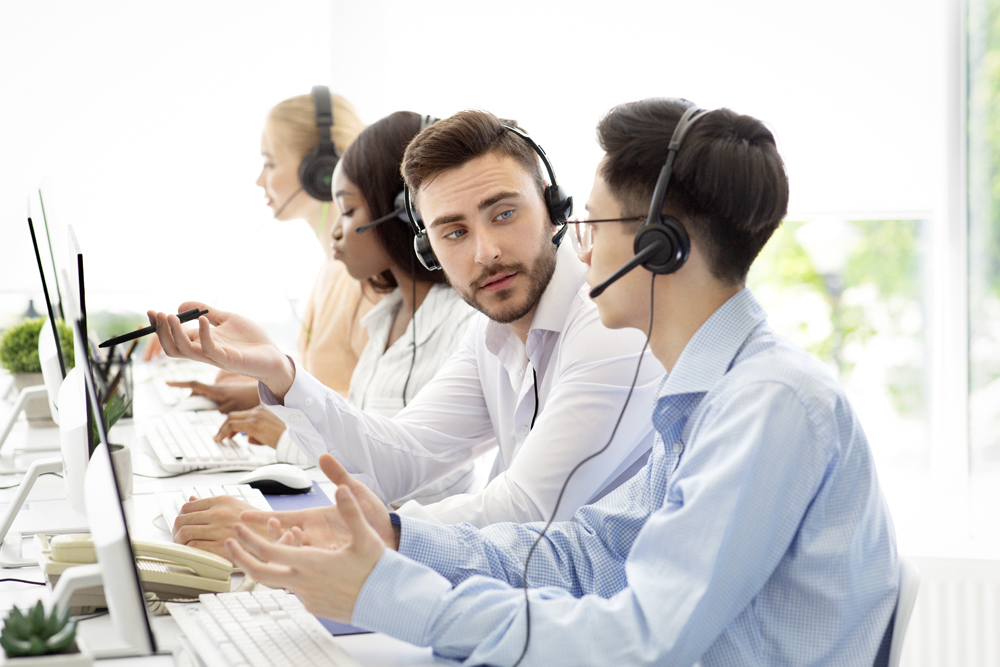 Reliability built on decades of development experience.
One of the most reliable POS software in the industry.
Most dealers provide 24/7 customer supports. No more "please wait until Monday when the office opens" non-sense.
Knowledgeable technical support team. Some even worked more than 10 years.
Bulletproof software that never crashes.
Industry's fastest updates and bug fixes.
Automatic data backup to 3 different locations.
Internet data backup and restore option.
Better Employee Managment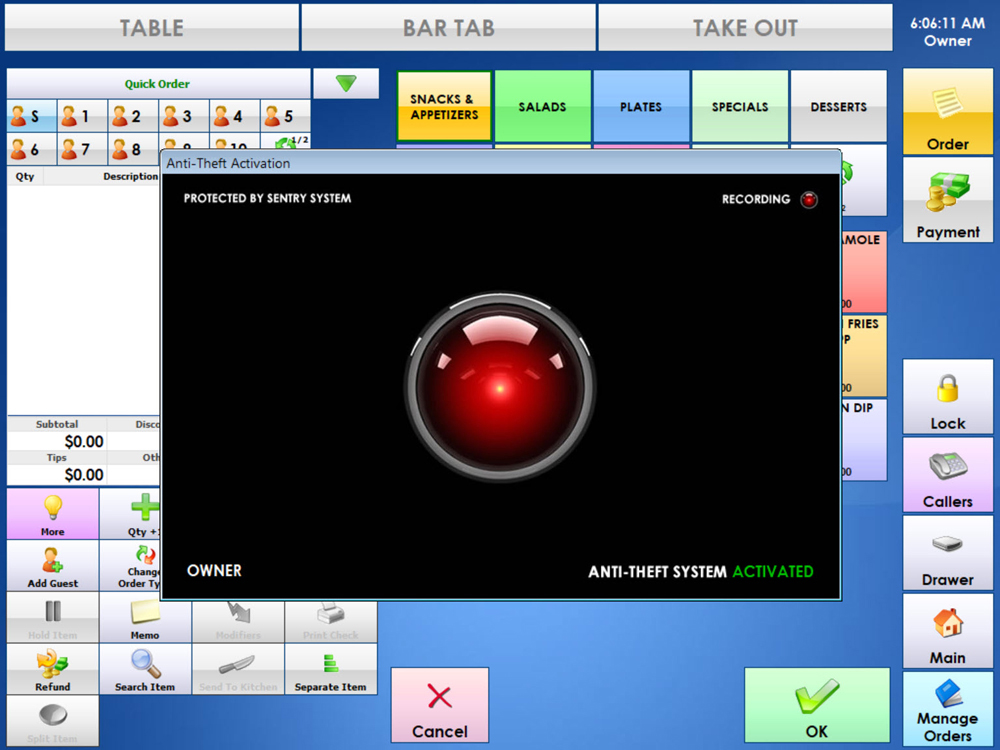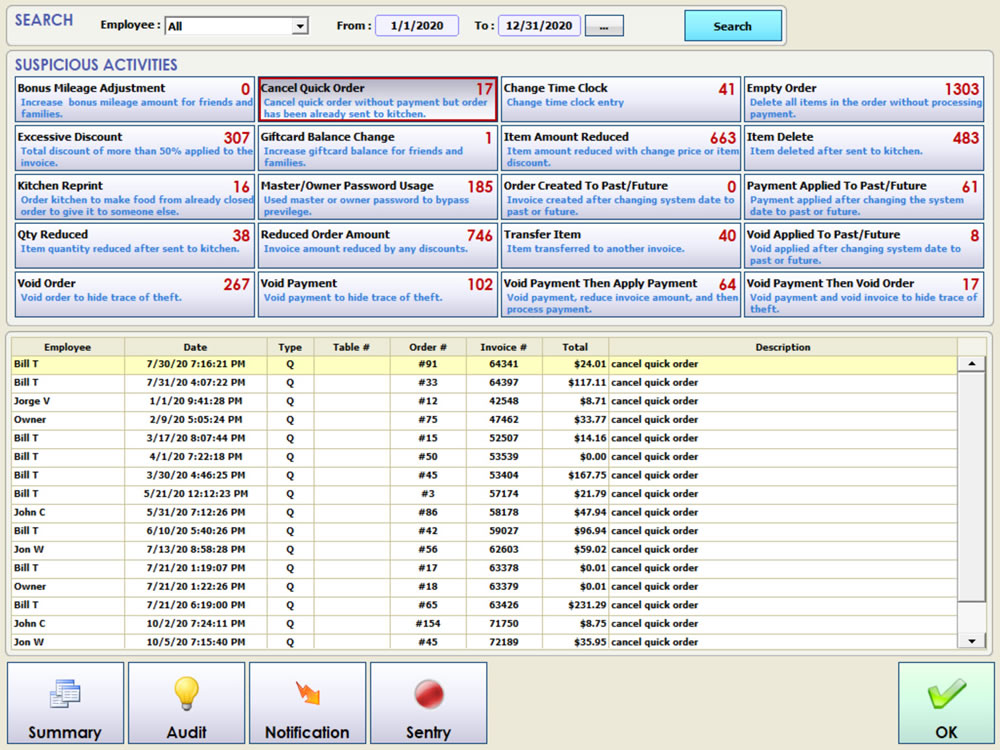 Anti-Theft utility detects over 20 different types of employee theft types.
Records each theft attempt in detail showing employee, data/time, invoice #, total amount, discount %, etc.
Employee theft text alerting : Sends text message to the owner when theft activity is detected.
Sentry System : When a theft attempt is detected, alert message appears and can only be unlocked by the manager.
Uses artificial intelligence to show which employees are most likely to steal.
Utilizes data science to determine which employee is most liked by customers.
Detailed audit list that shows every action taken by employees such as creating new order, item add, item delete, discounts, voids, payment, etc.
Block employees before attempting theft.
Flexible tip processing and sharing.
Uses behavioral science to nudge employees to greet customers more kindly.
Smooth shift transfers.
Detailed and customizable drawer in/out reports.
Employee commissions.
Tons of Features
Adaptable to Any Type of Restaurants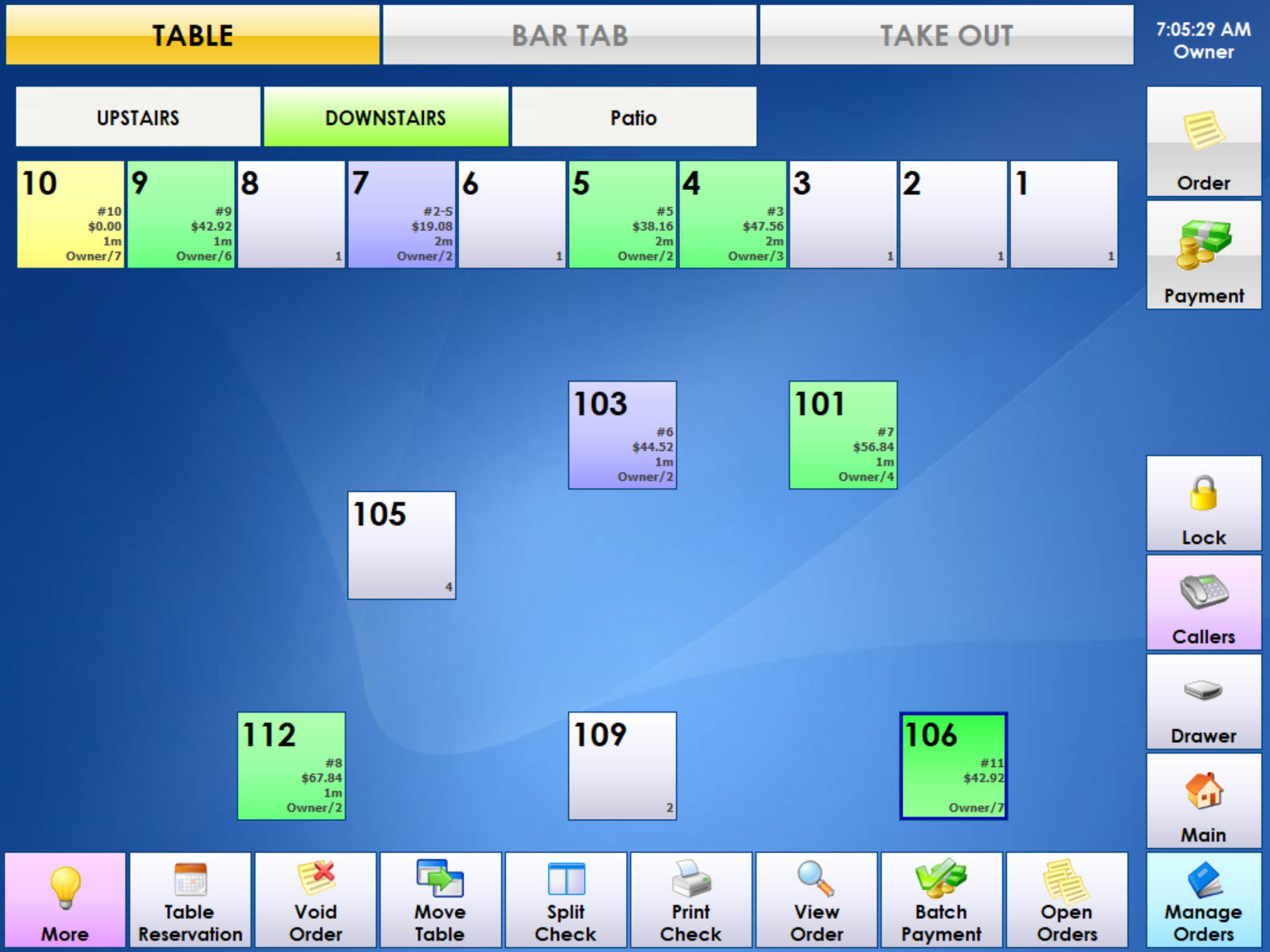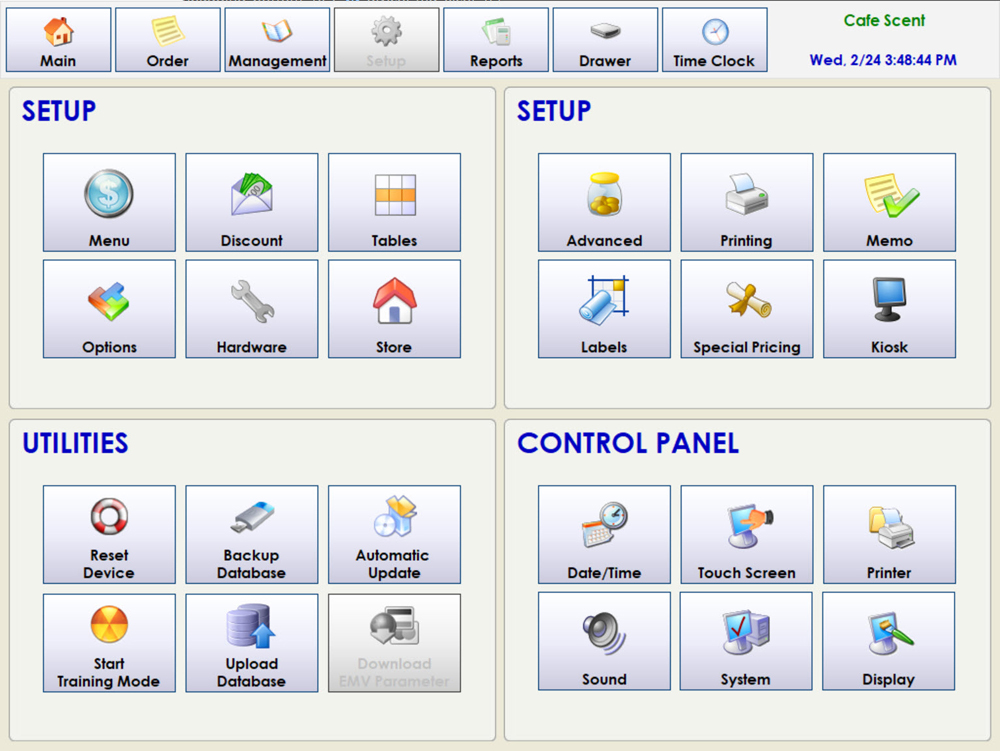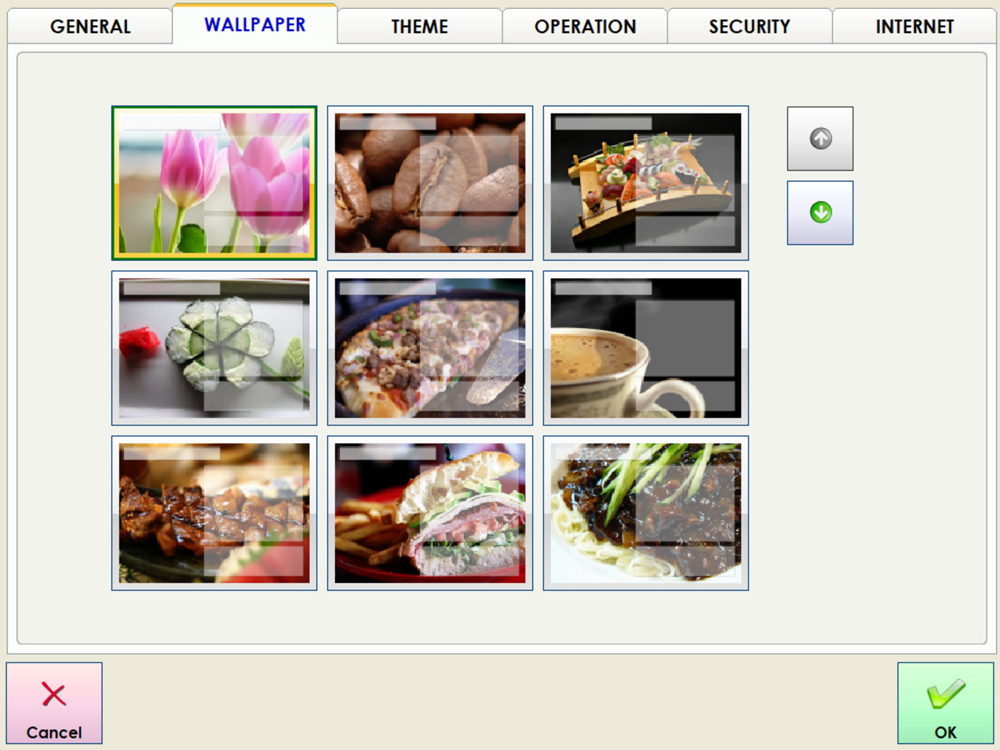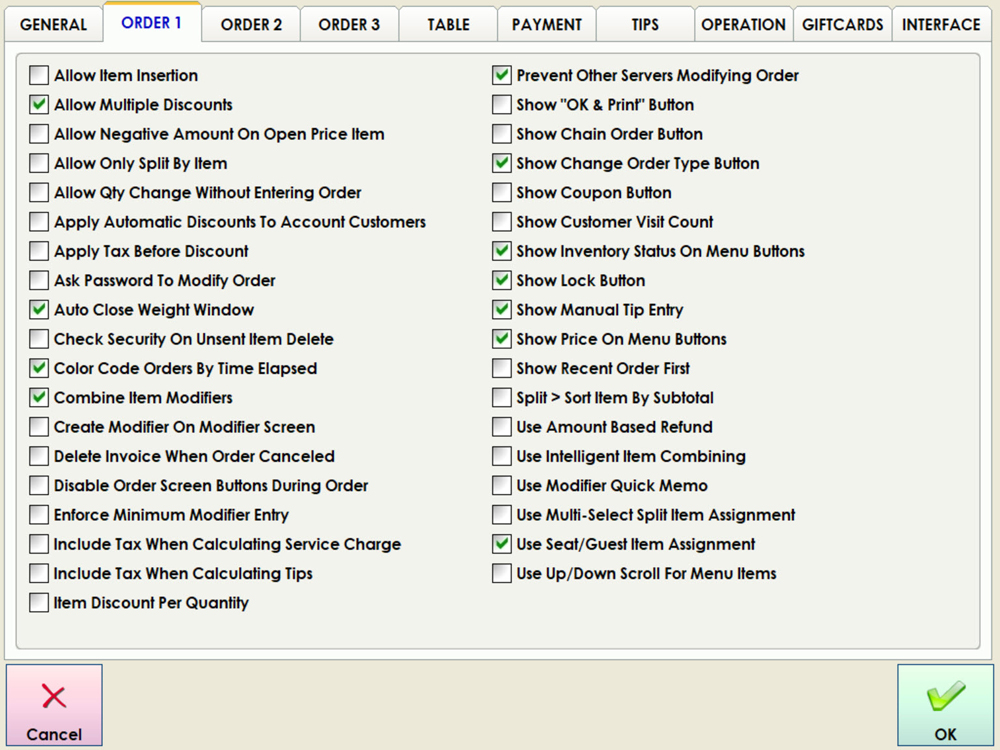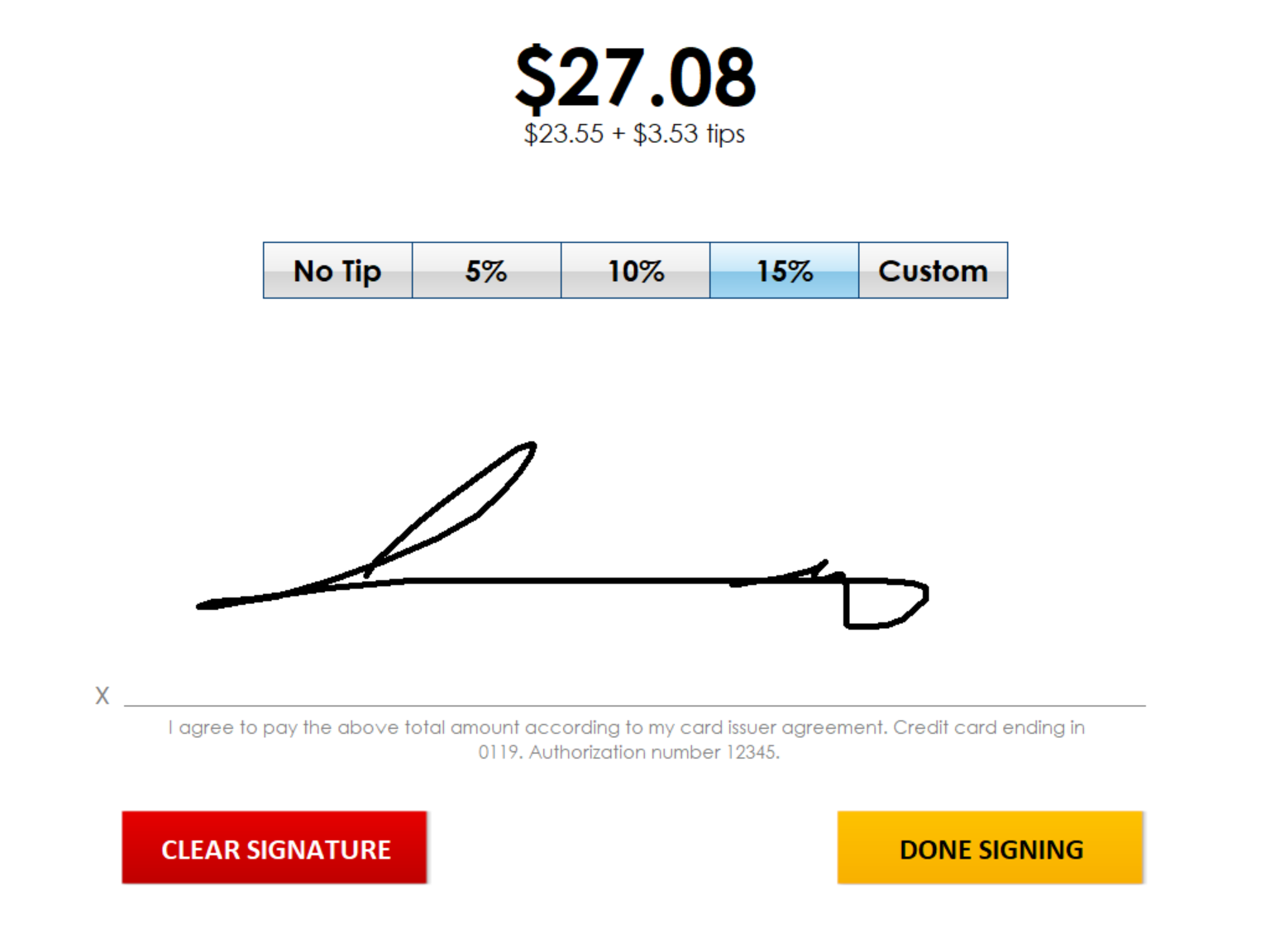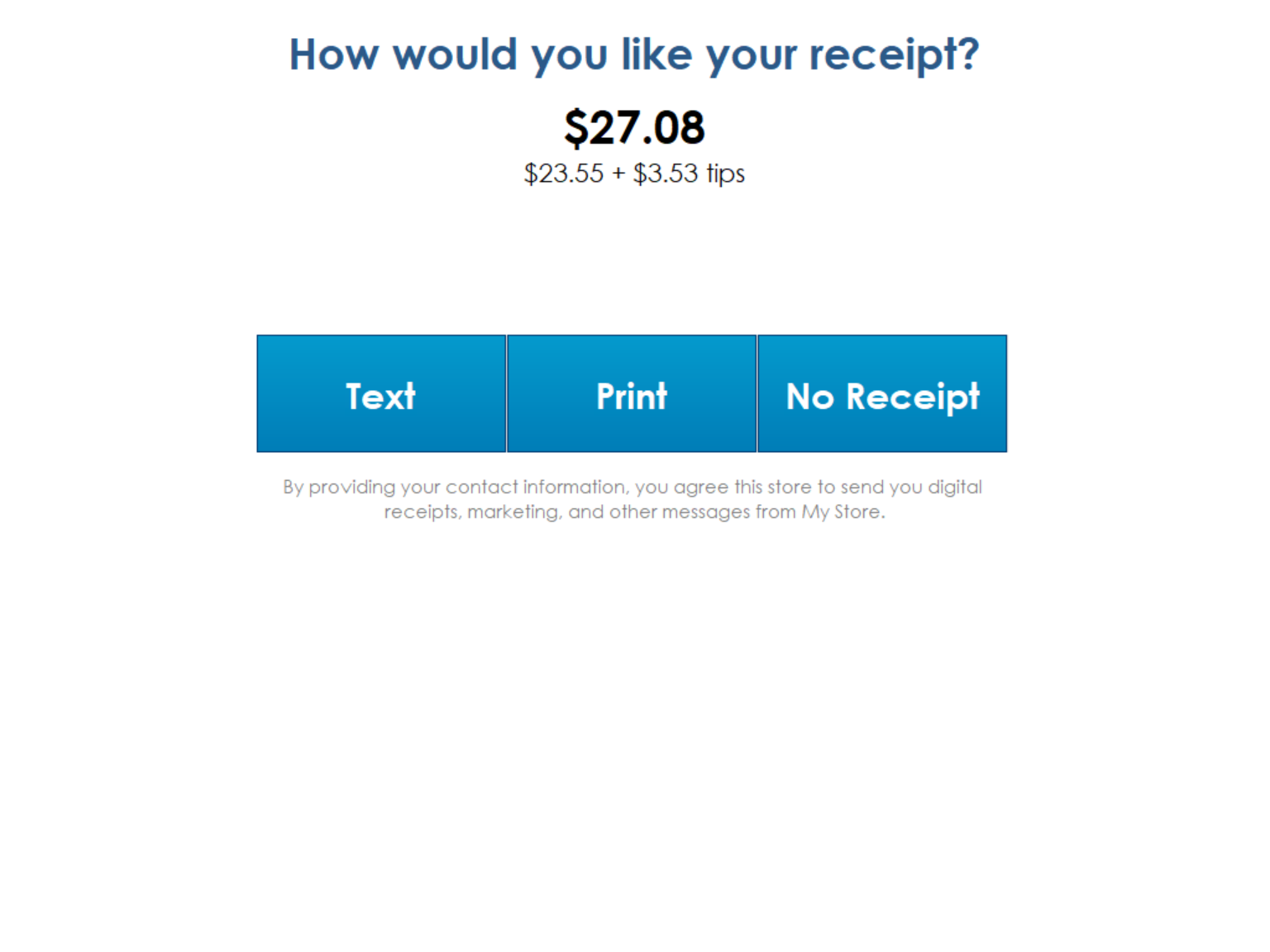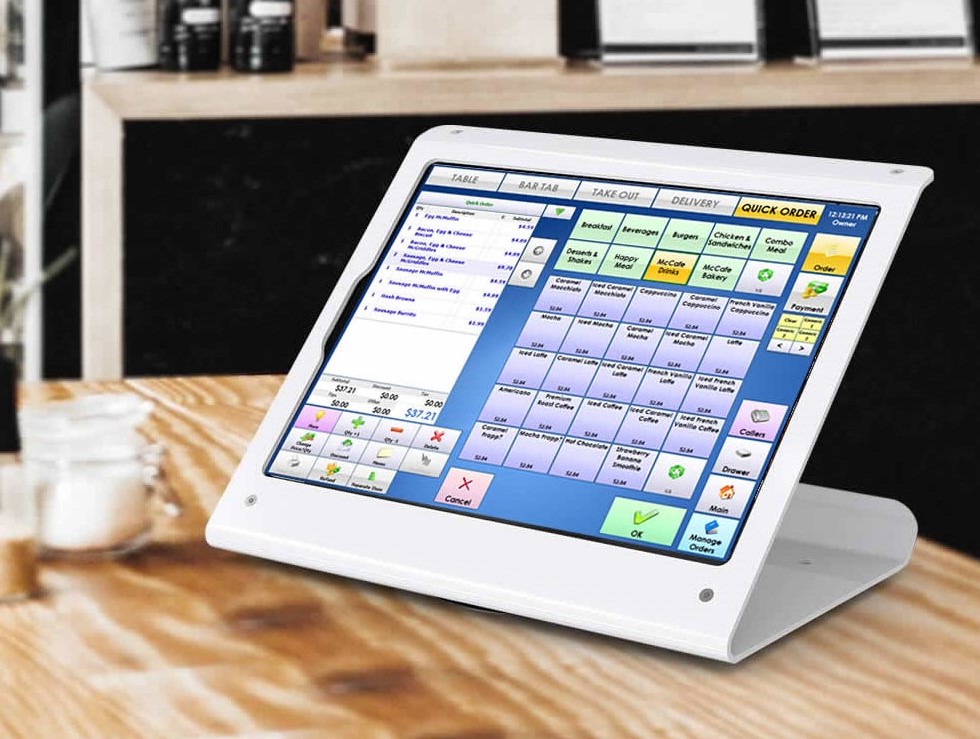 Over 300 options to custom tailor to your store type. And don't worry, out knowledgeable dealers will set them up for you.
Extremely adaptable : Currently used in table service, quick service, bars, pubs, delis, buffet, diners, lounges, clubs, hibachi, ramen, sushi, coffee/donut shops, pizzeria, catering, hotel restaurants, karaoke, Korean spa, car wash, and more!
Countless features to modify order including available quantity display, course meal support, delivery charge, guest seat assignment, half orders, hold item, item discounts, item limiting, item search, item split, manual tips by % or amount, order merge, order transfer, pager support, pizza builder, regular/prefix/postfix/priced memo, search table by #, set pickup later time, tax exempt, timed order sent to kitchen, transfer item... you get the idea.
Franchise ready : Use multi-store giftcards, customer rewards, and cloud reporting.
Supports hundreds of hardwares including invoice printer, kitchen printers, label printers, cash drawer, scale, pole display, caller ID, MSR, customer display, kitchen display, finger print device, barcode scanner, DVR text output, guest internet router, and more.
Use any type of hardware such as printers, touch monitors, scales, and computers. In many cases, our POS software can be installed on existing hardware from previously installed POS systems.
Show only features you use and hide ones you don't. Screen is not cluttered with features that you do not use.
Create multiple payment types for orders from delivery companies.
Use customer facing screen to show order details and obtain customer signature and add tips for credit card payments.
Table reservation that texts the customer when the table is ready.
Customer self wait-list signup system. No need to have separate employee to manage waiting customers.
Option to let customers to process payment at the table using tablet and wireless payment device.
Easy to use delivery management system with maps. Option to text the customer when the driver leaves the store with food.
Supports upto 4 caller ID lines.
Flexible tax setup where you can set by % or $ amount.
Select from multiple themes that match your store's ambience.
Can be installed on compact tablet or full sized POS terminal.
Customer facing, touch enabled display capture signature for credit card purchases.
Multiple receipt delivery method including text or printing.
Better Management Using Latest Technology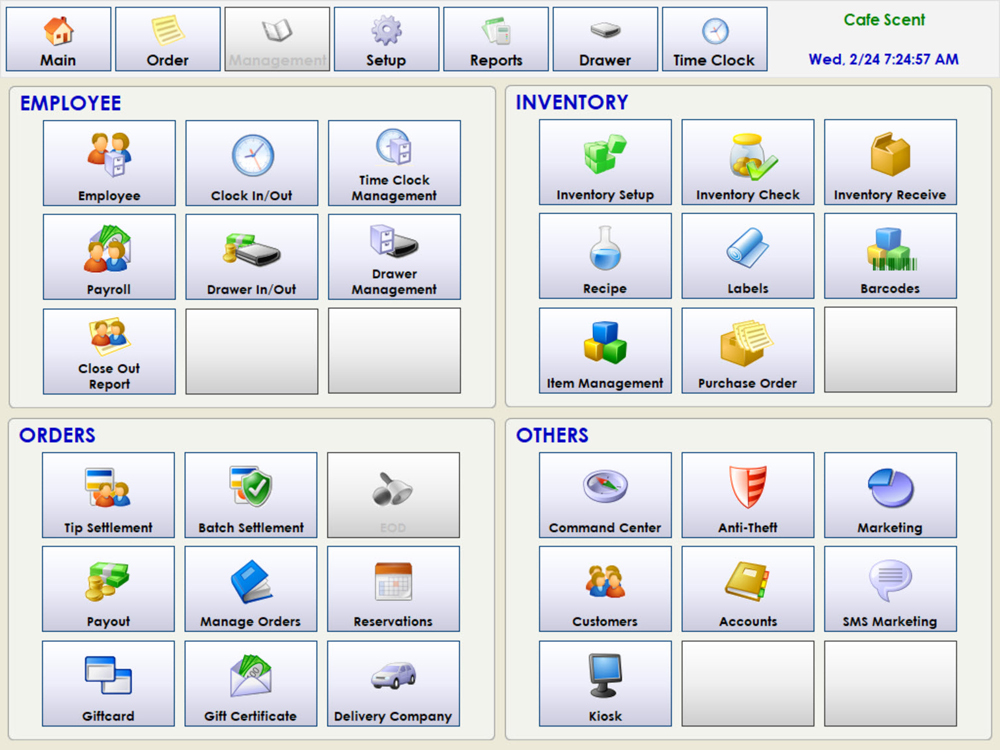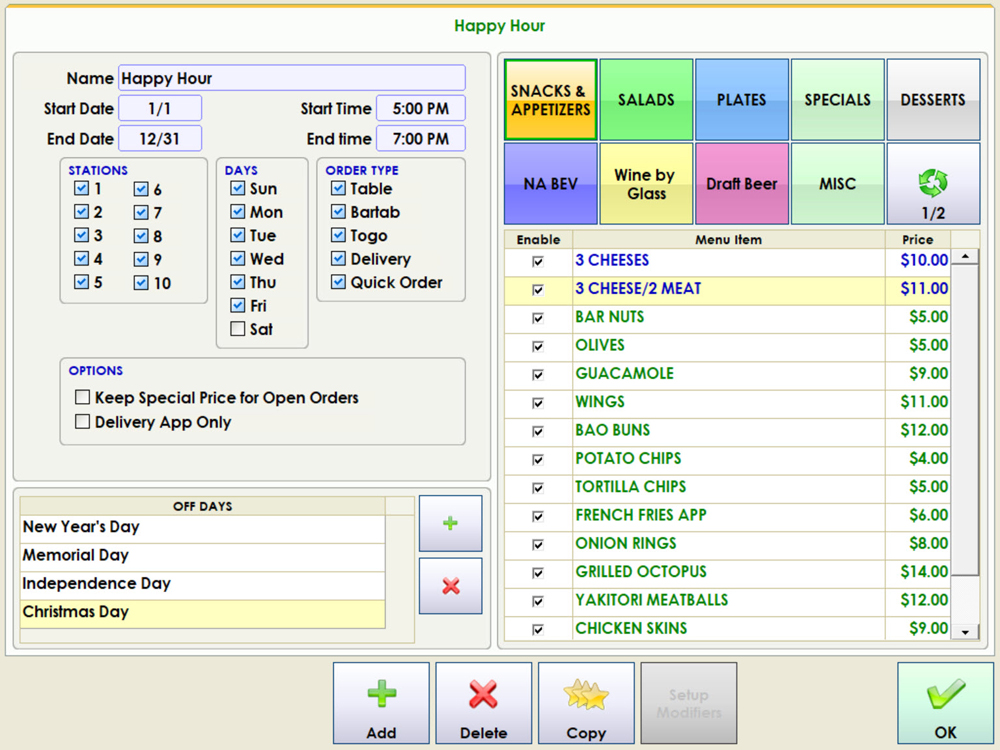 JKRestaurant actually helps you run your business better. Not another glorified cash register like other competitors.
Various tools to increase sales, better manage employees, and improve store management.
Flexible inventory control adaptable to all store types.
Create price, shelf, item, promotion labels and flyers.
Creat, send, manage purchase orders.
Customer management including in-house accounts.
Recipe management.
"Command Center" feature to show status of your store's operation in eagle eye view.
Automatically receive orders from online delivery companies to the POS.
Flexible happy hour pricing to set date, time, day of the week, stations, order types, and excluded holidays.
Optional satisfactory survey with coupons on receipt.
Various features to increase customer retention as existing customers bring 80% of sales than new customers.
Innovative Marketing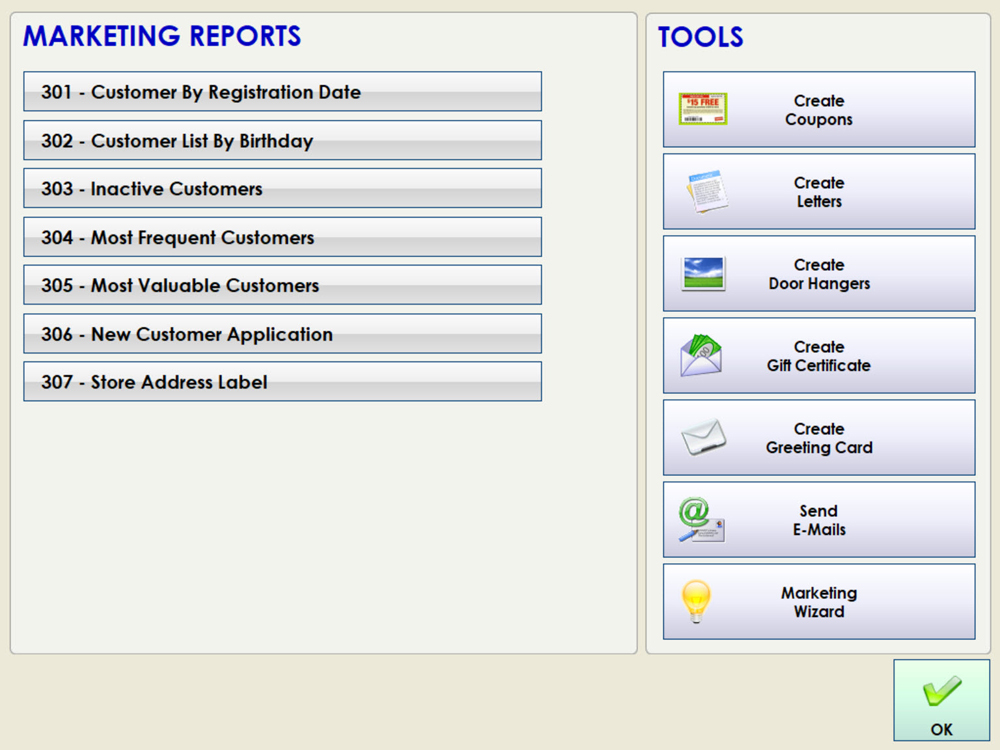 Send text marketing messages with photos to thousands of customers at once. For example, send "Today's Family Dinner Special" text message with picture of the food around 5:30 pm when people are starting to head back home.
Send marketing email messages created from multiple templates.
Create coupons, letters, door hangers, gift certificates, and greeting cards.
Uses A.I. (artificial intelligence) to predict items customers might like but haven't tried. And suggest that item when customer orders next time.
Uses A.I. to help you choose customers most likely to visit your store. Start promotional campaigns based on this result.
Track effectiveness of marketing campaigns and uses its data to improve next campaign.
Using the latest technology from behavioral science, JKRestaurant helps customers develop an habit to visit your store more often.
Send reward amount expiration reminder text to customer. For example, "You have $10 reward points expiring this month. Why don't you stop by sometime for Caramel Iced Latte." (JKRestaurant already knows "Caramel Iced Latte" is her favorite drink)
Send reward amount milestone reminder text to customer. For example, "You now have accumulated $100 customer rewards at Cafe Scent! Visit us soon."
Supports bonus card customer reward program.
Variable reward amount depending on sales amount.
Customizable marketing wizard to perform marketing campaign automatically.
Powerful Reporting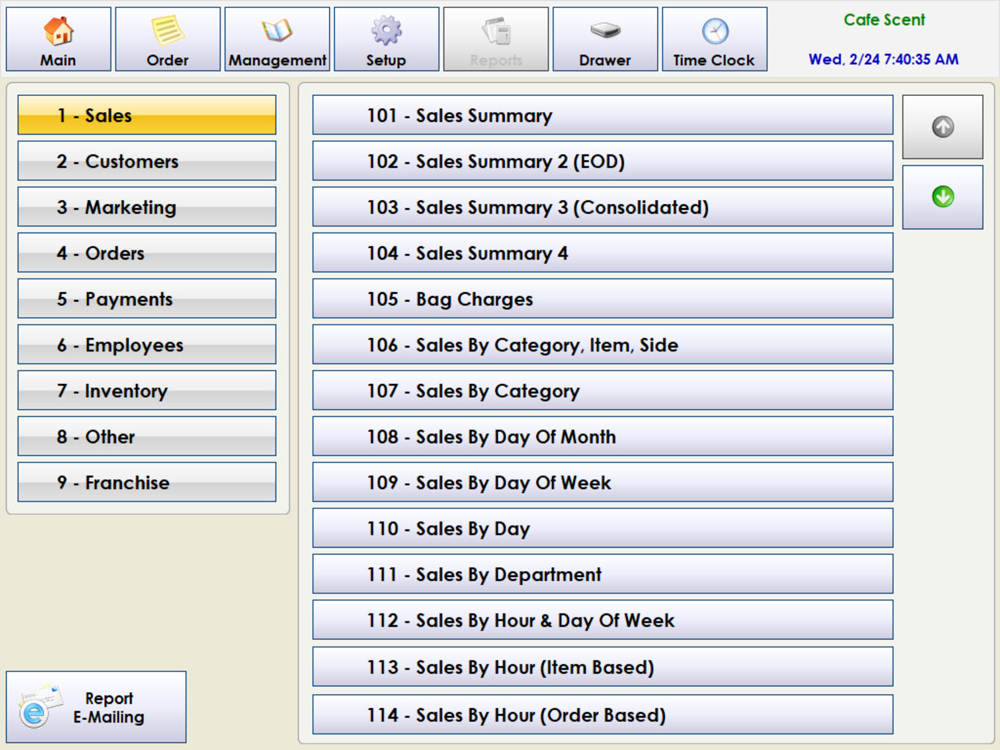 Over hundred reports in seven categories to choose from.
E-Mail Reporting : Send selected reports to your email on specific time and day.
Export reports to PDF, Microsoft Excel, Microsoft Word, image, or text format.
Sort report by any fields.
Customize which information is shown on reports.
Group sales figure by year, month, week, day of the week, and hour.
Support 4 different types of EOD (end of the day) reports.
Send text messages or start marketing campaign based on generated customer list reports.
Flexible report filters.
Competitive Pricing and Merchant Services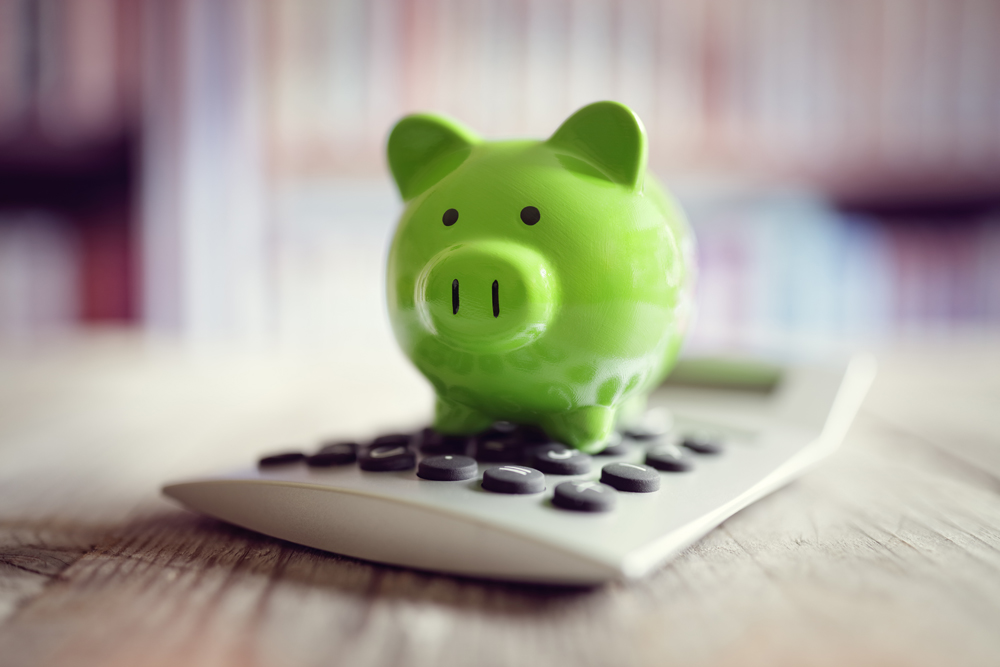 One of the most affordable, yet most powerful POS systems in the market. That's why over 12,000 stores use our software.
Flexible one time purchase or monthly rent options.
Freedom to choose a dealer who give best credit card rates.
Optional cash discount feature where credit card fees are charged to the customer.
Use any merchant services processors you choose including Chase, Elavon, Evo, FirstData, Global Payments, TSYS, and WorldPay.
We strictly require our dealers to have highest integrity and honest business practices.
Kitchen Display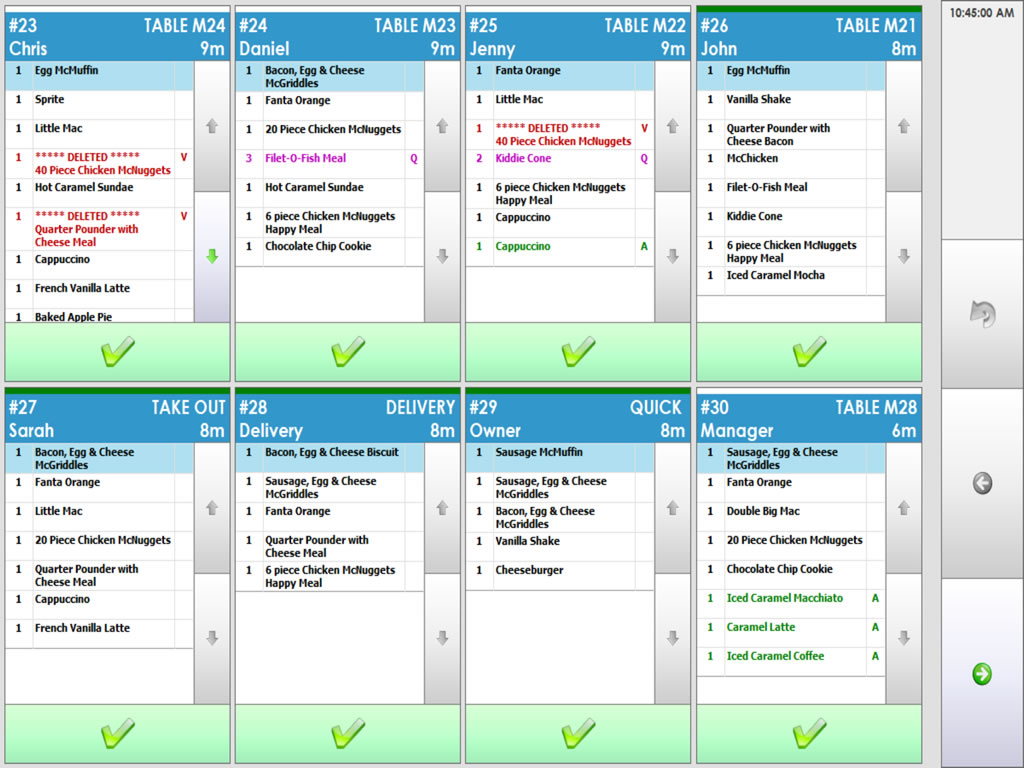 Displays order info in the kitchens.
Replaces the need of kitchen printers.
Option to show orders from other kitchens.
Support both touch screen and customized keypad.
Simple operations to bump, undo, and scroll through pages.
Detailed notification of added, deleted, and modified items.
Easy to identify status of orders and items.